8 things you should know about pneumonia
By

Stephanie Watson, Former Executive Editor, Harvard Women's Health Watch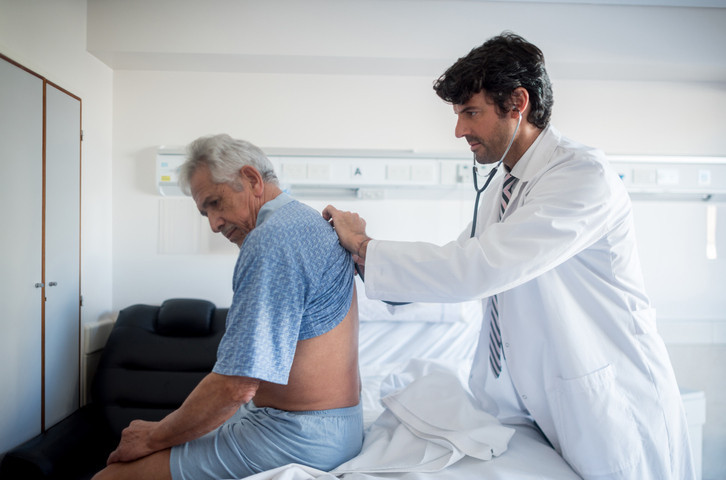 Pneumonia is an infection that causes the air sacs in the lungs to fill up with fluid or pus, which makes it harder to breathe. The most common symptoms are cough that may be dry or produce phlegm, fever, chills and fatigue. Other symptoms may include nausea, vomiting, diarrhea, and pain in the chest. and shortness of breath. Signs that indicate a more severe infection are shortness of breath, confusion, decreased urination and lightheadedness. In the U.S., pneumonia accounts for 1.3 visits to the Emergency Department, and 50,000 deaths annually.
With the COVID-19 pandemic continuing to affect people around the world, pneumonia has become an even larger health concern. Some people infected with the COVID-19 have no symptoms, while others may experience fever, body ache, dry cough, fatigue, chills, headache, sore throat, loss of appetite, and loss of smell.
The more severe symptoms of COV-19, such as high fever, severe cough, and shortness of breath, usually mean significant lung involvement. The lungs can be damaged by overwhelming COVID-19 viral infection, severe inflammation, and/or a secondary bacterial pneumonia. COVID-19 can lead to long lasting lung damage.
Here are other important facts you should know about pneumonia:,
Pneumonia can be a bacterial, viral, or fungal infection. Any of these organisms on their own cause pneumonia. Bacterial pneumonia can also complicate a viral illness like the flu. Many viruses can cause pneumonia. Most cases of viral pneumonia are relatively mild, but some can cause severe symptoms, such as severe acute respiratory system (SARS) coronavirus and the more recent SARS-CoV-2 (COVID-19). The most common cause of bacterial pneumonia is Strep pneumoniae (often called pneumococcal pneumonia).

Both the young and the old are at risk. Young children and older adults (over age 65) are at the highest risk of getting pneumonia, and of having complications from it. About one million adults receive care in a hospital for pneumonia and, around the world, it is the leading cause of hospitalization and death in children under 5 years old.

Vaccines are available to help prevent pneumococcal pneumonia. The PCV13 vaccine for children younger than two and those over age two who have preexisting health conditions helps protect against 13 types of pneumococcal bacteria, while the PPSV23 vaccine for older adults protects against 23 types. Yet, about one-third of adults aged 65 and older have not been vaccinated.

Pneumonia can be spread from person to person, but it can also be caused by other factors. Like other contagious respiratory illnesses, the viruses and bacteria that cause pneumonia can spread when an infected person coughs or sneezes, releasing germ-filled droplets into the air. The illness that results can range from mild to severe.

Doctors divide pneumonia into two main types. Doctors use term health-care associated pneumonia (HCAP) if the person who develops the lung infection has had been hospitalized, has stayed in a long-term care facility like a nursing home or has been on dialysis within the last three months. Otherwise, the designation is usually community acquired pneumonia (CAP).

The initial treatment of pneumonia depends on whether it is HCAP or CAP and whether the person has a normal vs. a compromised immune system. It's important to begin treatment for pneumonia as soon as the diagnosis is made. Because the specific cause cannot be determined immediately, doctors almost always prescribe antibiotics initially to cover bacterial infections.
For CAP that does not require hospitalization, doctors typically prescribe a single or a combination of two different oral antibiotics, such as amoxicillin with or without azithromycin or doxycycline. Patients with CAP who require hospitalization almost always receive two different antibiotics. Most people with HCAP pneumonia or compromised immune systems generally need treatment in the hospital with intravenous (IV) antibiotics.
Over-the-counter medicines can help relieve symptoms. To relieve pain or reduce high fever, good choices are either acetaminophen (Tylenol) or ibuprofen (Motrin, Advil). If the cough is very bothersome or keeping you up at night, look for products that contain either dextromethorphan (DM) to ease the cough or guaifenesin to loosen secretions. Many cold and flu products contain both. Be sure to look at the ingredients of all medicines to be sure that you don't take more than the recommended amount.

COVID-19-aquired pneumonia can cause lasting lung damage. While most people who recover from pneumonia tend not to suffer from any serious long-term lung damage, pneumonia caused by the coronavirus is often more severe and may result in long-term symptoms or a form of lung failure called acute respiratory distress syndrome (ARDS). Patients suffering from ARDS may be put on a ventilator while in the hospital to help oxygen circulate throughout the body. ARDS may cause pulmonary scarring and can be fatal.
Image: andresr/Getty Images
About the Author
Disclaimer:
As a service to our readers, Harvard Health Publishing provides access to our library of archived content. Please note the date of last review or update on all articles.
No content on this site, regardless of date, should ever be used as a substitute for direct medical advice from your doctor or other qualified clinician.