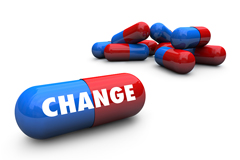 In a new essay entitled "Big Med," physician-author Atul Gawande muses in The New Yorker if The Cheesecake Factory and other successful chain restaurants could serve as a model for improving health care.
Gawande, a surgeon at Brigham and Women's Hospital and professor of surgery at Harvard Medical School, was having dinner with his children and some of their friends at a Cheesecake Factory. Everyone was happy with their reasonably-priced food and, as Gawande writes, "it was delicious." What's more, nothing smacked of mass production. A conversation with a line cook confirmed that most everything was made from scratch. He writes:
"I'd come from the hospital that day. In medicine, too, we are trying to deliver a range of services to millions of people at a reasonable cost and with a consistent level of quality. Unlike the Cheesecake Factory, we haven't figured out how. Our costs are soaring, the service is typically mediocre, and the quality is unreliable. Every clinician has his or her own way of doing things, and the rates of failure and complication (not to mention the costs) for a given service routinely vary by a factor of two or three, even within the same hospital."
The experience prompted Dr. Gawande to meet with managers, cooks, and other workers at a Boston-area Cheesecake Factory to see how it delivers good food and a good dining experience time after time. He then goes on to compare the restaurant's procedures with what goes on in hospitals. As a case study, he uses total knee replacement surgery, something his mother had recently undergone.
Gawande believes that standardization can and should be brought to areas of medicine, and that doctors can benefit from the same kind of training and coaching used in other industries. He concludes that
"Essentially, we're moving from a Jeffersonian ideal of small guilds and independent craftsmen to a Hamiltonian recognition of the advantages that size and centralized control can bring."
It's a provocative argument from someone who is part of big medicine and who is also a keen observer of how it works. If you are interested in our health care system, I recommend that you read the article. Let us know if you agree or disagree with Dr. Gawande.