Should you take a drug holiday?
A break from a medication is beneficial only in certain cases.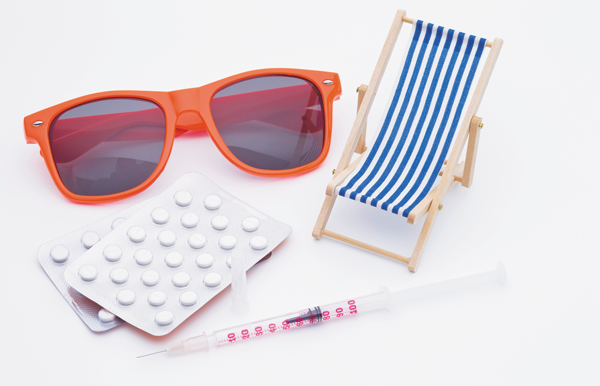 Image: Rallef/ThinkStock
When you think of a holiday, your medicine cabinet probably doesn't come to mind. But for people who take medications long-term, a drug holiday—a break from a medication for days or even years—may be helpful, for some medicines. "For some people, it gives the body a chance to recover the systems that have been suppressed by the drug," says Dr. Michael Craig Miller, assistant professor of psychiatry at Harvard Medical School.
Why take a break?
In some cases, medications have unwanted side effects, and taking a drug holiday offers some relief from them. For example, selective serotonin reuptake inhibitors (SSRIs) such as fluoxetine (Prozac) or sertraline (Zoloft) to treat depression may suppress the ability to feel desire or to have an orgasm. "One way to deal with that is to take the drug when you're less likely to have sex, maybe during the week, and to stop taking it on days you're more likely to have sex, such as the weekend," says Dr. Miller.
In other cases, a drug holiday may reduce a long-term risk associated with a medication—for example, the bisphosphonates used to treat osteoporosis. Holidays are sometimes prescribed after a person has taken an oral bisphosphonate such as alendronate (Fosamax) or ibandronate (Boniva) for five years, or has received three annual intravenous infusions of zolendronate (Reclast). Such drug holidays lower the risk of a rare type of fracture that can occur near the top of the femur (thighbone), as well as a rare type of damage to the jawbone (see "Easy ways to build better bones"). "We don't have a lot of data about when to restart bisphosphonates after a drug holiday, but you can take them if you need to at some point in future, as more of a booster, for a shorter length of time," says Dr. David Slovik, an endocrinologist at Harvard-affiliated Massachusetts General Hospital.
To continue reading this article, you must
login
.
Subscribe to Harvard Health Online for immediate access to health news and information from Harvard Medical School.