Ask the doctor: Should I keep taking sleeping pills?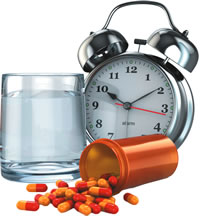 Image: Thinkstock
Q. I have been taking a sleeping pill for about a year, and it has helped me get a good night's sleep. My doctor says he does not think it's a good idea for me to continue taking it. I'm worried that if I go off the drug, I won't sleep well. Should I stop?
A. The short answer is yes, you should. Even without knowing what kind of sleeping pill you are taking, I can confidently tell you that there is no sleeping pill intended for long-term use. These drugs can be very helpful for short-term use; that's their intended purpose. But with long-term use, they are more likely to cause side effects and to alter how you sleep.
One of the normal results of aging is that our sleep architecture changes. We spend less time in deep, restorative sleep and more time in lighter sleep. Consequently, it's much easier to be roused from sleep and to feel less rested upon awakening in the morning. But it's important to talk with your doctor about why you originally started the medication and to determine whether those symptoms or circumstances still exist. My recommendation is to taper off of it, and then see what happens to your sleep. It will probably take a few weeks for you and your body to readjust. If, after stopping the medication, you are not feeling well rested when you wake up in the morning, you should see your doctor to investigate why that is.
To continue reading this article, you must
login
.
Subscribe to Harvard Health Online for immediate access to health news and information from Harvard Medical School.