Ask the doctor: Poor circulation in the legs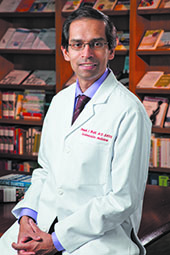 Deepak L. Bhatt, MD, MPH
Q. My legs hurt if I walk too much, especially going uphill or taking several flights of stairs. My internist told me that it was probably poor circulation. How can I be sure—and is there anything I can do about it?
A. Peripheral artery disease (PAD) is the medical term for poor circulation in the arteries that deliver blood from the heart to the legs. Based on a person's medical history alone, it can be very challenging to tell whether leg pain is caused by PAD, by back problems, or by hip or knee arthritis.
Noninvasive tests that measure blood pressure and blood flow in the thighs and the ankles can help determine whether there are blocked arteries that are causing leg pain or leg fatigue with walking. Sometimes these tests need to be performed before and after exercise—a sort of stress test for the legs.
To continue reading this article, you must
login
.
Subscribe to Harvard Health Online for immediate access to health news and information from Harvard Medical School.