Bypass or angioplasty with stenting: How do you choose?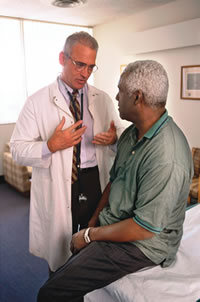 Photo: Thinkstock
It's your doctor's call, but it's good to understand, and to weigh, your options.
Your heart doesn't just pump blood—it needs blood to survive. So when blocked coronary arteries threaten the heart's blood supply, something must be done.
There are two main approaches.
Angioplasty plus stenting. A small balloon wrapped in a collapsed wire mesh stent is inserted into a blood vessel in the groin or arm and maneuvered into the heart. When the balloon is inflated, it flattens the cholesterol-filled plaque that has been restricting blood flow through the artery. When the balloon is deflated and removed, the stent remains behind to prop open the artery. This is called balloon angioplasty with stenting.
To continue reading this article, you must
login
.
Subscribe to Harvard Health Online for immediate access to health news and information from Harvard Medical School.