Ask the doctor: What can cause a heart murmur in an adult?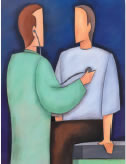 A heart murmur may indicate an aortic or mitral valve problem.
Image: Thinkstock
Q. When someone develops a heart murmur as an adult, what are the possible causes?
A. A heart murmur refers to the sound—heard via stethoscope—made by turbulent blood flow within the heart. It's often described as a whooshing sound. About 10% of adults with normal hearts have a harmless murmur, known as an innocent or functional murmur. And so-called benign flow murmurs occur when blood flows faster than usual through the heart. This may happen just after you exercise, if you are anxious, or if you have a high fever or severe anemia.
To continue reading this article, you must
login
.
Subscribe to Harvard Health Online for immediate access to health news and information from Harvard Medical School.