Is that noise pollution, or are you hard of hearing?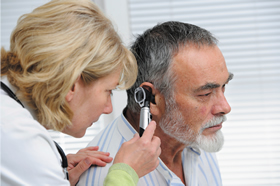 Images: Thinkstock

If you can't hear well with background noise, consider a hearing test to rule out underlying causes.
A loss of volume and clarity can interfere with your ability to understand conversations.
If you've ever been in a crowded restaurant and had trouble hearing your dinner partner, you might think the difficulty is due to too much background noise. But how do you know if hearing challenges are the result of a loud environment or actual hearing loss? "In general, you should be able to hear a person you're sitting near, even if there's background noise. If you used to be able to hear in that environment, and now you can't, you should seek medical attention," says Dr. David Jung, an otologist with Harvard-affiliated Massachusetts Eye and Ear Infirmary.
To continue reading this article, you must
login
.
Subscribe to Harvard Health Online for immediate access to health news and information from Harvard Medical School.