Improving Sleep: A guide to a good night's rest
Get the sound sleep your body needs!
Do you feel like you struggle half the night just to get a few hours of shuteye, and then wake up feeling exhausted? You're not alone. An estimated 50-70 million Americans have some type of sleep disorder. And it's not just frustrating — not getting enough sleep can have serious consequences for your health.
There's no reason to miss out on a great night's sleep. The experts at Harvard Medical School have created Improving Sleep: A guide to a good night's rest, a Special Health Report that brings you the latest research on the science of sleep, plus the information you need to fall asleep faster, stay asleep all night, and wake up feeling refreshed.
Click here now to get your copy and discover:
Why spending less time in bed helps people with insomnia get more restful sleep
What to do if restless legs syndrome is keeping you awake
7 treatments for sleep apnea — that don't require a CPAP machine
What to do if frequent trips to the bathroom are keeping you awake all night
The therapy that works as well as medication to help you sleep
4 ways to avoid jet lag that really work
The sleep position that helps ease low back pain
And more!
You'll discover what to do if you sleepwalk or sleep eat, or are prone to night terrors. You'll learn how to get the rest you need if you work nights and need to sleep during the day. Inside Improving Sleep, you'll also find quick quizzes that help you decide if depression or anxiety is making you sleepy, and so much more.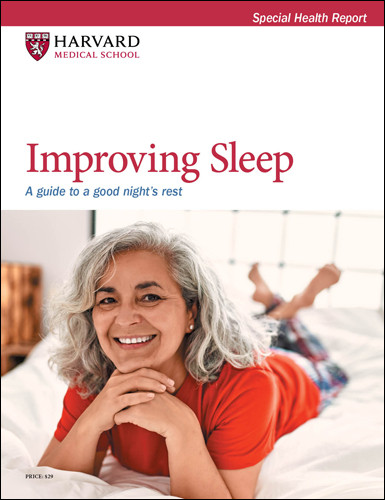 This Special Health Report reveals:
The ideal room temperature for sleep
How just one cup of coffee in the morning can bring on a sleepless night
Why alcohol won't help you sleep better (it's actually linked to chronic insomnia)
10 medical conditions that disrupt sleep
An online program that's helping insomniacs get much-needed sleep
The only two drugs that help you fall asleep faster and stay asleep longer