Healthy Eating: A guide to the new nutrition
From Harvard Medical School nutrition experts
Discover the foods that can help make you healthier!
Did you know research shows you can significantly cut your risk for chronic disease and disability with a healthy diet?
That's why the experts at Harvard Medical School want to show you the foods that can help fight disease and improve your health.
In this fascinating report, you'll find tricks to help you get more vegetables into your diet, tips for creating healthy meals with what you've got in your pantry, why where you eat matters almost as much as what you eat — and more.
You'll get all the latest updates from today's top nutrition experts, like:
Why whole grains are the most misunderstood food group
6 secrets for smarter snacking
Why you may want to focus on a food's "glycemic load" instead of the "glycemic index"
The type of meats that increase risk for heart disease and type 2 diabetes
4 nutrients you're probably not getting enough of in your diet
The truth about antioxidants — what every health-conscious person needs to know now
And so much more
Plus, you'll get a Special Bonus Section with 23 superb recipes for appetizers, soups, salads, entrees, and everyone's favorite — dessert! All healthy. All delicious.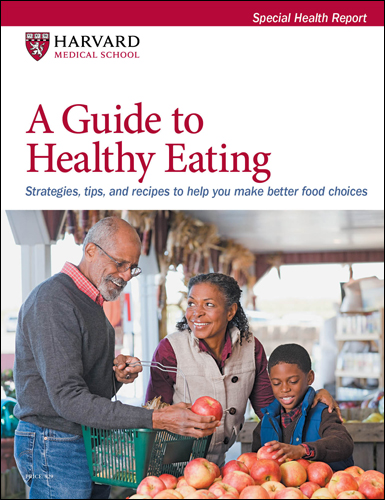 Tips for decoding nutrition labels
Check the serving size. If you're eating double the servings, you're getting double the calories, fat, sodium, etc.
Check the calories per serving. 40 is low; 100 is moderate; 400 is high.
Limit your intake of sugar, saturated fat, and sodium.
Make sure you're getting enough fiber, protein, vitamins, and minerals.
An easy way to understand percent daily values (PDV): 5% is low and 20% or more is high.