New food labels in the works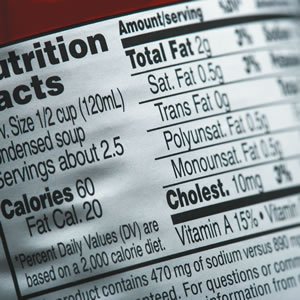 Image: Thinkstock
In an effort to help curb the skyrocketing number of Americans with type 2 diabetes, and other weight-related conditions, the FDA wants to revise the Nutrition Facts labels on foods. "The current labels have had the effect of reducing the total fat intake in the American diet," says Dr. Clifford Lo, an associate professor of nutrition at the Harvard School of Public Health. When food makers take out fat—often healthy unsaturated fat—to improve the "total fat" number on the label, they tend to add in sugar and other rapidly digested carbohydrates. "Unfortunately, this has often led to an increase in calories and sugar in the diet, now linked to increasing obesity and diabetes," says Dr. Lo. The proposed new label will list information about sweeteners added to foods during processing; update recommended daily values for sodium and dietary fiber; list the amount of potassium and vitamin D; and remove the "calories from fat" line while continuing to list types of fat. This is important because we now know that the type of fat (saturated, unsaturated, and trans) in the diet is more important for health than the amount of fat. Once the FDA approves the revised label, food manufacturers will have up to two years to implement the changes. 
To continue reading this article, you must
log in
.
Subscribe to Harvard Health Online for immediate access to health news and information from Harvard Medical School.