Workout Workbook: 9 complete workouts to help you get fit and healthy
Discover the breakthrough workouts that will have you looking and feeling years younger — in just six weeks!
Learn how you can enjoy lasting, visible results from workouts that take 30 minutes or less!
Do you feel you're getting nowhere when you're on the treadmill? Or just spinning your wheels on that stationary bike?
The Workout Workbook ends all that! In it you'll meet and master exercise programs with purpose... exercises that get you somewhere ... exercises that will boost your fitness, renew your energy, and invigorate your appearance within weeks.
Want to build your balance? Lose those last few pounds? Firm up your abs? Tighten your core? Tone your thighs? Boost your upper body strength to power your tennis game? Build stamina? Pump up your cardio system? With The Workout Workbook you'll be on the fast track to success.
ORDER NOW for a 30% savings…and a 100% satisfaction guarantee!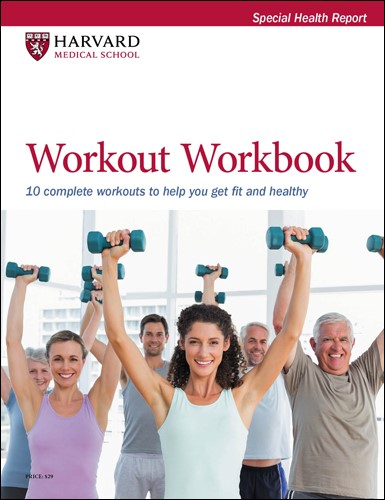 Order Now
ORDER
NOW
for 30% OFF the
cover price
Now you can maximize the return on your exercise investment!
The fact is some exercises are better than others. The best are true change agents; they can stimulate better health and fitness. They can take inches off your waist and add years to your life. These are the exercises you'll meet and master in The Workout Workbook.
The Workout Workbook showcases nine dynamic workout programs tailored for greatest efficiency and optimal results. There are no more than eight exercises in each workout. Each exercise contributes to your objectives and capitalizes on your efforts.
Exercising will never be a bore or a chore again! Packed with the right moves, these workouts assure that you'll get more out of all you put in. You'll be challenged…you'll be motivated…and most of all, you'll be rewarded.
Don't miss out! Send for your copy of The Workout Workbook now!
Harvard Medical School was again ranked as the country's #1 Medical School for Research by US News & World Report.
The Workout Workbook includes:
9 complete 30-minute workouts designed to fulfill your most important fitness goals

More than 80 different exercises, each instructively illustrated

Bonus tips for tailoring the exercises to match your fitness level

Candid appraisals of today's popular group workouts from boot camps to Zumba

Guidance for getting the most from warm-ups and cool-downs

What to look for when choosing a trainer or buying equipment
Plus, you'll get a Special Bonus Section –
EXERCISE 101 – included at no extra cost!