A Guide to Women's Health: Fifty and forward
See How
You Can Improve
Your Health and
LIVE BETTER LONGER!
We all know that men and women are different. But what many of us find so surprising is just how different we are when it comes to things like our health. By the time we reach age 50, hormone levels are changing and leaving us more susceptible to osteoporosis, heart disease, stroke, and more.
Getting the right tests and staying on top of the latest health research can mean finding and treating a problem while a cure is still possible or minimizing symptoms so you can stay active.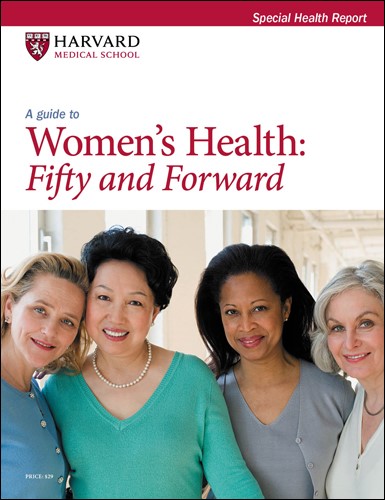 Order Now
ORDER
NOW
for 30% OFF the
cover price
Get answers you can trust to all your health questions from the experts at Harvard Medical School. For example...
The type of heart disease that's most common in women – and why standard tests often don't detect it
The reasons supplements may actually do more harm than good
5 warning signs that you might have ovarian cancer
How to lower your risk of Alzheimer's disease
3 reasons women are more likely to suffer from depression than men
The single biggest cause of wrinkles, fine lines, and saggy skin – and how to prevent them
Which topical medications work best to relieve pain in your joints
Plus, you'll get a Special Bonus Section –
10 STEPS TO A LONGER, HEALTHIER LIFE – included at no extra cost!