A Guide to Men's Health Fifty and Forward
Now men
over 50 can
feel younger, stay healthier,
AND LIVE LONGER!
Discover the smart, sensible steps that will enhance your well-being, recharge your energy, and help you enjoy the years to come.
In this Special Health Report, you'll learn the steps, strategies, and secrets that can help you defy age-related illnesses, stay physically and mentally fit, boost your sexual vitality, and add to your longevity.
You'll find that by doing the "right things" with consistency and commitment, you can protect yourself against serious illness, postpone the signs of aging, and enjoy years of active living.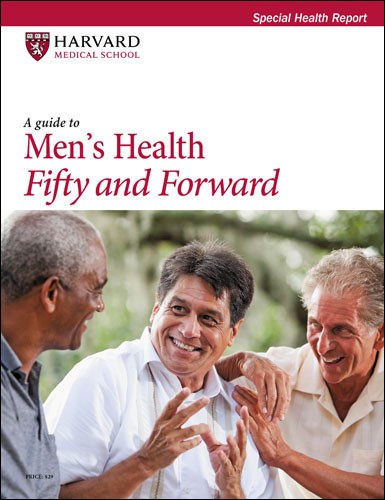 Order Now
ORDER
NOW
for 30% OFF the
cover price
What are the "right things"? In Men's Health: Fifty and Forward, you'll be introduced to 41 changes and choices that matter. Some you may know. Some will be new. All will be helpful.
You can sidestep the biggest threats to men over 50. You'll find the "Super-6" steps that can protect against heart disease, the four foods that can reduce your risk of prostate cancer, and two keys to respiratory health.
You can look younger, feel stronger, and stay sharper. You'll discover ways to prevent joint and muscle pain, the best exercise regimen for flexibility, and five ways to reduce the risk of Alzheimer's disease.
You'll enjoy life to the fullest with confidence and peace of mind. You'll learn the most effective ways to overcome erectile dysfunction and an enlarged prostate. You'll even learn which immunizations and screenings are worthwhile, how to reduce stress — and more.
Inside Men's Health: Fifty and Forward, you'll discover:
The single most important lifestyle change a man can make
The wonder food that can help slash your stroke risk by as much as 43%
How to protect against today's fastest-growing accident risk
The one vaccine you've probably let lapse (and two more you need)
An exercise routine that can help cut your risk of dementia in half
The diet change that can help lower your odds of colon cancer by as much as 30%
Whether you want to reduce your risk of heart attack and stroke or boost your stamina and staying power, this report will give you the information you need for the tomorrows you want.
Enjoy the healthy advantage! Send for your copy of this valuable report today!