Life After Cancer
ADVERTISEMENT
The cancer survivors' guide.
Learn the strategies for a life after cancer with enriched health, more confidence, and greater peace-of-mind.
Cancer treatment is an all-consuming journey that follows a very specific and detailed road map. But once your primary treatment ends, the map, and your guides, can suddenly vanish. Now what?
Life After Cancer dispels the uncertainty. You will read how to manage the effects of treatment…how to resume activities…how to reestablish relationships…how to find support…and how to minimize the fear of recurrence.
Your life after cancer is different than your life before. The good news is that you can make the transition with success and stability. This Special Health Report will help you write your life's next chapter with clarity and assurance.
Edited by the Director of the Adult Survivorship Program at the Dana-Farber Cancer Institute, this enlightening and empowering guide shares...
…targeted strategies for renewed good health. You'll discover tools and techniques to lessen the effects of treatment. You'll find how to ease fatigue, protect your heart, relieve pain, strengthen bones, and more. You'll be introduced to energizing foods, helpful exercises, and useful medications.
…effective ways to stay confident and connected. You'll find valuable steps to maintain your emotional balance, boost your mood, and lessen anxiety. You'll read how to tap sources of support and how to restore and deepen your bonds with those who are most dear to you.
…breakthroughs in detection and preventing recurrence. You'll learn what advances in genetic testing can mean for you—and your family. You'll be briefed on important screening tests…factors that can increase your risk…and four preventive measures you will want to take without delay.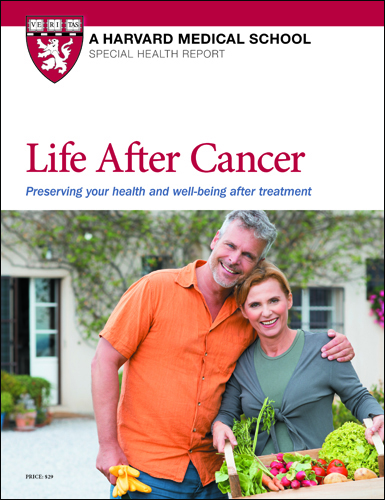 In Life After Cancer you'll read about…
reducing the cost of insurance and assuring coverage
minimizing the appearance of scars—without surgery
7 tried-and-true tips for a more restful night's sleep.
improving care for survivors of childhood cancer.
creating a comprehensive cancer survivorship care plan.
resolving the controversial daily supplement debate


Bonus!"Survior's Chronicles": 5 personal stories from people who've survived—and thrived.
If you don't feel that Life After Cancer has the best information for you and your family, return it for a full refund — no questions asked!