Healthy Hands
Harvard Doctors show how you can enjoy
Liberating Relief from Aching,
Stiff or Injured Hands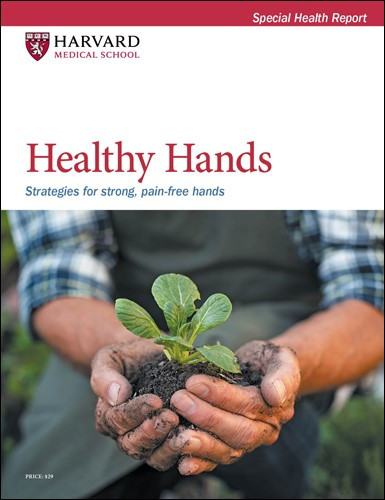 If you suffer from the pain and frustration of aching hands caused by arthritis, tendon trouble, "pinched" nerves, or injuries, Harvard doctors have great news for you.
Today, more options than ever are now available to you to help ease your pain, strengthen your hands, and help you to once again enable you to do the things you used to take for granted.
Thanks to the strategies and treatments revealed in Harvard's Healthy Hands Special Report, thousands of men and women have received a new lease on life, free of the limitations that once robbed them of their freedom to enjoy life's simple pleasures. For example...
"This has been life changing for me." Stephen had been an active, lifelong athlete when at age 72, arthritis of his thumb made him unable to ride a bike or swing a hammer without pain — let alone pay his beloved softball. But after undergoing a fairly new surgical procedure recommended by his doctor (see page 19), he declared "my grip strength is back and I can throw the ball as hard as I used to!"
"I don't wake up with numbness, and I can use the keyboard, hold my phone, grip the steering wheel, and get back to my crafts." Carrie, a 46-year-old physician assistant, could no longer reliably hold medical instruments due to her carpal tunnel syndrome. After the having the procedure described on page 33, she exclaimed "At my two-week check, I had a full range of motion, so I didn't need hand therapy."
"It's been a dramatic improvement. I now have full mobility in all my fingers on both hands..." Scott, now 70, was no stranger to painful hand injuries — but it was the worsening curling of the fingers of both of his hands from Dupuytren's disease that had him looking for help. Cortisone shots worked for a while, but it was the surgery described on page 29 that provided lasting relief.
Order This Special Report Now and Save 30%!
Pain-Relieving Exercises for Your Hands
Look to Healthy Hands to discover the exercises therapists recommend most to treat specific conditions.
| | |
| --- | --- |
| • | See how to help increase your range of motion — particularly helpful for osteoarthritis as well as tennis elbow and golfer's elbow. Page 43 |
| • | Find out how to strengthen your hands to generate more power or improve endurance. Page 44 |
| • | Do you do repetitive tasks? Discover stretching exercises to help relieve tight, painful hand muscles. Page 45 |
| • | Have you lost some hand dexterity over the years? The exercises on page 45 can help. |
No matter what's robbing you of pain-free use of your hands, Healthy Hands has the answers you may be looking for — from the latest surgical procedures to healing hand exercises ... medications ... handy gadgets and practical advice to make life easier ... and more. Order now and you'll discover ...
Arthritis
What doctors want you to know about 8 types of topical and oral pain relievers. Pages 8-9

Five alternative and complementary treatments that help relieve osteoarthritis symptoms. Page 10

The golden herb shown to be as effective as ibuprofen in treating knee osteoarthritis, with fewer side effects.

Antirheumatic drugs (DMARDs) that may reduce inflammation, reduce or prevent joint damage, and lessen the chance of long-term disability. Page 11

How rheumatoid arthritis sufferers who underwent acupuncture treatment gained better grip strength and reduced pain and swelling than those who did not. Page 10

Surgical options that help reduce pain and improve function and improve the appearance of the hands. Page 12

Antirheumatic drugs (DMARThe causes, symptoms and treatments for gout ... pseudogout ... lupus... scleroderma ... and psoriatic arthritis.
Tendon Trouble
Pain on the thumb side of your wrist? Discover the causes and treatments of De Quervain's tendinitis. Page 23

Trigger Finger? Learn about the 10-minute procedure that helps restore finger movement right away. Page 23

Tennis elbow? See why kinesiotape is an increasingly popular treatment option. Page 26

Dupuytren's contracture? Find out about treatment options for this condition in which the fingers slowly contract toward the palm. Page 26
Carpal Tunnel Syndrome and other "pinched" nerves
Non-surgical and surgical treatments to relieve the pain and "pins and needles" of carpal tunnel syndrome. Pages 30-34

What to do for work-related repetitive strain injury (not the same as carpal tunnel syndrome). Page 35

Numb or tingling in your ring and little fingers? Find out how to find relief from cubital tunnel syndrome.
Traumatic Hand and Wrist Injuries
Should you see a doctor for a hand injury? Only if you see one of the six signs shown on page 38.

Instant answers for treating common injuries — from wrist sprains and tendon injuries to finger sprains, jams and dislocations... fractures...and more.
Order This Special Report Now and Save 30%!
SPECIAL SECTION: The Latest Advances In Joint Reconstruction for Arthritic Hands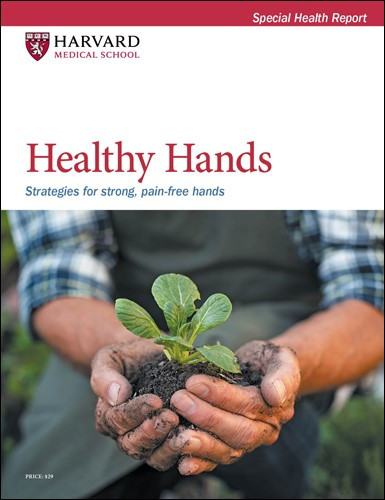 Advances in materials and mechanics have made replacing hand joints — including
the entire wrist, as well as knuckle and finger joints — a viable option for many people.
Let Healthy Hands open your eyes to the latest available options that could make a big difference in your life.
| | |
| --- | --- |
| • | Surgery for arthritis of the thumb: The procedure that helps return functional, pain-free joint motion and pinching and gripping strength. Page 18 |
| • | Wrist surgery: The risks and benefits of two options — total joint replacement and fusion. Page 19 |
| • | Joint replacement: When it could be the right decision for you. Page 20 |
| • | Surgery on finger joints to correct hand deformities caused by rheumatoid arthritis. Page 21 |
| • | And more |