You know your audience —
we know health content
Your audience looks to you for resources they can trust
We know a successful learning program begins with listening. For us it is important to hear what you want to accomplish. You tell us where you want to go; we create the vehicles to get there.
In today's world it's increasingly true that your message has to be outstanding to stand out. Your partnership with the health and wellness content licensing services of Harvard Health Publishing can assure that you accomplish that.
We can customize, curate, and white label our content for your needs. We work with our clients to deliver meaningful medical content in a choice of formats and frequencies. From blogs to books...in-depth guides to online programs...workplace posters to at-home e-publications, our content studio will work to your specifications for materials that raise the bar and lower your costs.
Contact HHP Licensing
Whether it's licensed or custom content, or a combination of both, we can produce branded consumer-facing publications in formats crafted and created for your objectives.
Custom Publishing Formats
Special Health Reports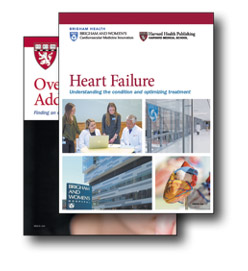 Havard Medical School's in-depth guides can be licensed and customized with your brand logo and messaging for patient education, point-of-care, and promotion programs. Includes up-to-date, actionable information on diagnosis, treatment, and prevention.
Newsletters
Custom print or e-newsletters provide the latest news and easy-to-implement advice to help consumers take control of their health. Content is curated from award-winning Harvard Health newsletters to meet your specific project objectives.
Custom Content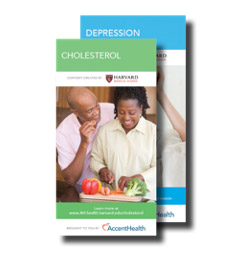 Help patients understand health conditions with easy-to-read print and digital publications that explain symptoms, treatments, and positive lifestyle changes. Available in various length, formats, branding, and messaging options.