Heart disease has been the number one cause of death in America for nearly a century—claiming more lives each year than all forms of cancer combined. In the U.S. alone, someone has a coronary event (a heart attack or death from coronary heart disease) every 40 seconds.
But you don't need to become a statistic. To help you slow or even prevent the progression of heart disease, Harvard Medical School experts created Diseases of the Heart: A compendium of common heart conditions and the latest treatments.
This Special Health Report brings you important information on various conditions that affect the heart, along with the causes, symptoms, diagnosis and prevention. You'll learn about major cardiovascular problems such as hardening of the arteries, peripheral artery disease, coronary artery disease and more.
You'll get details on atrial fibrillation, tachycardia, valve problems, aneurysms, infections and inflammation of the heart as well as rare conditions and congenital defects.
You'll find answers you can trust to nearly all your cardiovascular questions, like:
Why you may need your blood pressure taken at your ankle
A common cause of heart palpitations
Why a low-sodium diet is critical if you have heart failure
Reasons you may need cholesterol-lowering medication even if your cholesterol levels are normal
And so much more
Plus, you'll get a Special Bonus Section—Lifestyle habits that help your heart—that reveals dozens of things you can do to keep your heart healthy.
Prepared by Harvard Health Publishing, in consultation with Deepak L. Bhatt, MD, MPH, FACC, FAHA, FSCAI, FESC, Professor of Medicine, Harvard Medical School, Executive Director of Interventional Cardiovascular Programs, Brigham and Women's Hospital Heart & Vascular Center and Editor in Chief, Harvard Heart Letter. 53 pages. 2016
The healthy heart

The cardiovascular system

What causes heart disease?

Factors you can't control
Factors you can control
Diseases and conditions that put you at risk for heart trouble

Coronary artery disease

Consequences
Diagnosis
Treatment

SPECIAL SECTION: Lifestyle habits that help your heart
Heart failure

Causes of heart failure
Symptoms
Diagnosis
Treatment

Heart rhythm disorders

Palpitations
Atrial fibrillation
Tachycardia
Bradycardia

Diseases of the heart valves

Aortic valve
Mitral valve
Pulmonary valve
Tricuspid valve
Diagnosing heart valve problems

Peripheral artery disease

Symptoms
Diagnosis
Treatment

Diseases of the aorta

Symptoms
Diagnosis
Treatment

Infection and inflammation of the heart

Pericarditis
Myocarditis
Endocarditis

Congenital heart defects
Resources
Glossary
ASK THE DOCTOR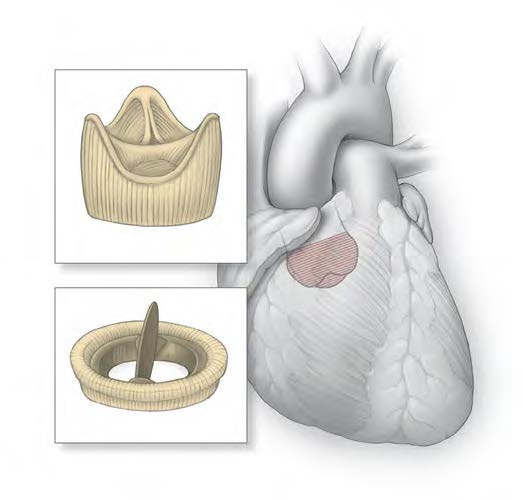 Q: I'm having valve replacement surgery. I understand there are two different types of replacement valves—mechanical and tissue valves. What are the pros and cons of each?
A: In general, both types of valves work comparably well. Mechanical valves are made from a special type of carbon or titanium and other sturdy materials. They last longer than tissue valves but have a major drawback: blood clots can lodge in the valve flaps or hinges. These clots can prevent the valve from working properly. Or the clots may break off and travel through the bloodstream, causing a stroke. To avoid this problem, nearly all people who get mechanical heart valves must take anti-clotting medication (usually warfarin) for the rest of their lives. Warfarin increases the risk of bleeding, but careful monitoring limits this danger. Tissue valves are made from pig heart valves or cow heartsac tissue. They last only about 15 years, but they don't usually require the use of anti-clotting drugs. As a result, they're often used in people in their late 70s and 80s, whose age makes them more vulnerable to the bleeding side effects of warfarin. These people are less likely to outlive their new valves. But for older people already taking warfarin for another reason, a mechanical valve might make sense. For those younger than 65, a mechanical valve may be the best bet, since it probably won't need to be replaced, though opinions on this point are evolving.
—Deepak L. Bhatt, M.D., M.P.H.
Editor in Chief, Harvard Heart Letter
No reviews have been left for this this report. Log in and leave a review of your own.