Are you getting all of your prescriptions filled?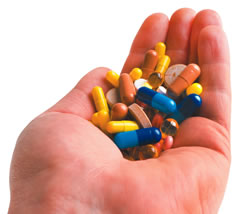 Image: Thinkstock
Medications only work if they are taken—and often they are not. A study in the March 31, 2014, Annals of Internal Medicine finds that nearly a third of patients fail to fill first-time prescriptions. Not surprisingly, this is most common when drugs are expensive or when they are used to prevent conditions (like heart disease) that aren't yet causing symptoms. It's also more common when patients have higher copayments and are already taking many medicines for many different conditions. "I see too many people who go to lots of specialists, are given too many prescriptions, and get overwhelmed with so many pills that they just can't take any more," says geriatrician Dr. Suzanne Salamon, an instructor at Harvard Medical School. She suggests that you bring containers of all of your medications and vitamins (not just a list) to your primary care visits to talk about which ones you're really taking, which ones you think are helpful, and if there is a way to safely reduce the number of pills you take (there often is). If a copay is too high, ask your doctor if there is a less expensive version of the medication. Once you fill your prescriptions, make a chart to help you remember when to take the drugs.
To continue reading this article, you must
login
.
Subscribe to Harvard Health Online for immediate access to health news and information from Harvard Medical School.