Heart Attack (Myocardial Infarction)
What Is It?
A heart attack occurs when one of the heart's coronary arteries is blocked suddenly, usually by a tiny blood clot (thrombus). The blood clot typically forms inside a coronary artery that already has been narrowed by atherosclerosis, a condition in which fatty deposits (plaques) build up along the inside walls of blood vessels. A heart attack also is called a myocardial infarction or coronary thrombosis.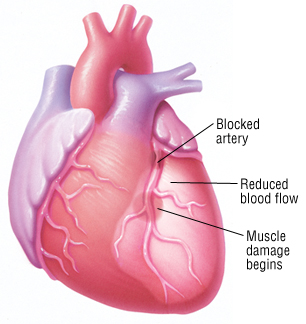 Each coronary artery supplies blood to a specific part of the heart's muscular wall, so a blocked artery causes pain and malfunction in the area it supplies. Depending on the location and amount of heart muscle involved, this malfunction can seriously interfere with the heart's ability to pump blood. Also, some of the coronary arteries supply areas of the heart that regulate heartbeat, so a blockage sometimes causes potentially fatal abnormal heartbeats, called cardiac arrhythmias. The pattern of symptoms that develops with each heart attack and the chances of survival are linked to the location and extent of the coronary artery blockage.
To continue reading this article, you must
login
.
Subscribe to Harvard Health Online for immediate access to health news and information from Harvard Medical School.