Study shows benefit of high-dose flu vaccine in elders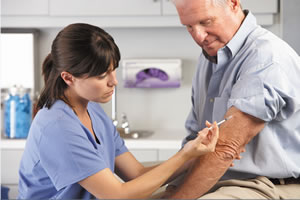 Image: Thinkstock
A high-dose version of the flu vaccine protected older people from influenza infection better than the normal-dose version, according to a study in The New England Journal of Medicine. The manufacturer of the high-dose flu shot, called Fluzone, conducted the study.
The study involved 32,000 people 65 and older who were immunized during the 2011–12 and 2012–13 flu seasons. The high-dose version contained four times the amount of vaccine as in a standard shot.
Getting the high-dose shot cut the number of flu infections by 24%, or from 301 to 228 cases out of 16,000 people vaccinated with each version. There was no difference in side effects from vaccination, such as pain at the injection site, low fever, or nausea and vomiting. Such side effects are relatively uncommon.
To continue reading this article, you must
login
.
Subscribe to Harvard Health Online for immediate access to health news and information from Harvard Medical School.