Insomnia or jittery nerves? Use tranquilizers with caution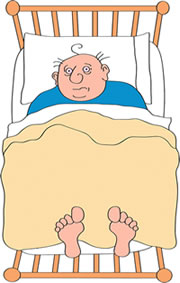 Image: Thinkstock
Some men still take them for sleep problems or anxiety, but they can be risky. Use them cautiously and only for short periods.
The Rolling Stones famously sang of "mother's little helper," a sly reference to the tranquilizers, especially diazepam (Valium), that were all the rage in the 1970s. The medications in this class, benzodiazepines, are among the most widely prescribed drugs in the world.
But benzodiazepines have fallen out of favor. Their sedating effects can be dangerous for anyone with impaired balance or vision—and particularly for older people. "It doesn't take that much for someone to have a bad fall and end up with a broken hip," says Dr. Suzanne E. Salamon, associate chief for clinical geriatrics at Harvard-affiliated Beth Israel Deaconess Medical Center.
To continue reading this article, you must
login
.
Subscribe to Harvard Health Online for immediate access to health news and information from Harvard Medical School.