Heel pain explained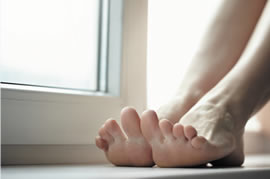 Images: Thinkstock
This common complaint, called plantar fasciitis, often gets better after a few months. You can hasten healing with a few easy exercises.
Getting out of bed in the morning may be hard for many of us, but if you have plantar fasciitis, it can be agonizing. The first step of the day triggers deep, intense pain in your heel—the hallmark of a condition that is fairly common, especially for women.
The heel pain is caused by inflammation of a fibrous band of tissue called the plantar fascia. It runs from the heel along the bottom of the foot and helps to support the arch. When it is overloaded or overstretched, which can occur during sports like tennis and running—or simply with age—the plantar fascia can develop small rips, usually where it meets the heel bone.
To continue reading this article, you must
login
.
Subscribe to Harvard Health Online for immediate access to health news and information from Harvard Medical School.