Is summer heat putting you at risk?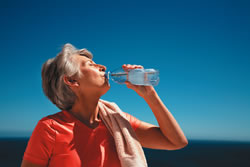 Image: Thinkstock
Dehydration, heart disease, and medications may lead to heat exhaustion and falls.
It's always uplifting to welcome summer, with its glorious sunshine and warm weather. But high temperatures put older adults at risk for heat-related illness. "As you get older, your body just can't handle heat and dehydration the way it used to," says Dr. John Nagurney, an attending physician in the emergency department of Harvard-affiliated Massachusetts General Hospital.
Heat-related illness includes heatstroke, when the body can no longer regulate its core temperature, and heat exhaustion, the body's response to dehydration (the loss of fluids and salt), in which blood pressure drops. Dr. Nagurney says he's rarely seen heatstroke during his many years in emergency departments, but heat exhaustion is a common occurrence, with potentially serious consequences. "If you become dehydrated from the heat, you may feel a general weakness with dizziness, fatigue, and even nausea. You may feel faint, or you may pass out. These symptoms can lead to falling and fractures," says Dr. Nagurney.
To continue reading this article, you must
login
.
Subscribe to Harvard Health Online for immediate access to health news and information from Harvard Medical School.