Heart Beat: Setting standards for pacemaker and ICD lead extraction
Heart Beat
Setting standards for pacemaker and ICD lead extraction
The explosive growth in the number of people needing a pacemaker or implantable cardioverter-defibrillator (ICD) each year has given rise to the need for another procedure — removing broken or damaged leads (pronounced leeds). These are the wires that connect the device, which is usually implanted just under the collarbone, with the heart. Pacemaker leads deliver small, carefully timed shocks to make the heart beat at a predetermined rate; ICD leads deliver bigger shocks that jolt the heart out of a potentially lethal rhythm. Leads sometimes wear out or break. When this happens, they must be removed.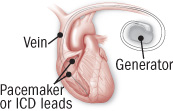 To make lead removal as safe as possible, the Heart Rhythm Society has published new guidelines for the procedure, as follows:
Lead extraction should be done in a hospital or medical center that is accredited for cardiac surgery and cardiac catheterization and is properly equipped to do the procedure.

A cardiac surgeon should be in the hospital when a lead extraction is being performed, and the cardiac surgery suite should be readily available in case trouble arises in the form of a tear in the heart muscle or blood vessel, bleeding into the sac around the heart, the formation of a serious blood clot, or other complication.

The procedure should be done by a physician who has undergone rigorous training, and who has extracted at least 40 leads under supervision of an expert.

A physician should perform a minimum of 20 lead extraction procedures a year to keep his or her skills sharp.
The Heart Rhythm Society also urges doctors to document lead failures and extraction procedures and enter them into a database, called a registry, for future research. The guidelines were published in the July 2009 issue of Heart Rhythm. A full copy is available at health.harvard.edu/153.
To continue reading this article, you must
login
.
Subscribe to Harvard Health Online for immediate access to health news and information from Harvard Medical School.