Heart Beat: Geography influences treatment of clogged carotid arteries
Like all arteries, the carotid arteries that run up either side of the neck, bringing blood to the brain, can become clogged with cholesterol-filled plaque. Treating this common problem should be somewhat consistent across the country. It isn't. In the crazy quilt of American medicine, rates of artery-clearing procedures are all over the map.
Endarterectomy is the surgical procedure performed to clean out a clogged or narrowed carotid artery. Angioplasty plus a stent can open the vessel from the inside without surgery. Both procedures help prevent stroke and premature death in people whose narrowed carotids cause symptoms; the benefits are much more modest in those without symptoms. About one in 10 people who has carotid endarterectomy or angioplasty probably doesn't need the procedure.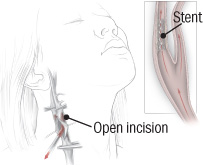 By analyzing Medicare data from almost 30 million older Americans, Duke University researchers discovered big differences from region to region. In Beaumont, Texas, 5.5 endarterectomies were performed for every 1,000 people, compared to 0.79 per 1,000 people in Honolulu, Hawaii. Smaller but equally significant variations were seen for carotid angioplasty plus stenting (Archives of Internal Medicine, July 26, 2010). In general, the procedures were used less often in the New England, Mountain, and Pacific regions, and most in the central part of the country.
To continue reading this article, you must
login
.
Subscribe to Harvard Health Online for immediate access to health news and information from Harvard Medical School.