Snapshot of the American diet: Foods out of balance
Simple steps can help add more healthful foods to your diet.
As a nation, we aren't eating as if our hearts and health depended on what we put into our stomachs. According to the USDA's Economic Research Service, the average American gets too little of the foods that promote cardiovascular and general health and too much of those that detract from it. The service compared daily per-person food consumption with recommendations from the Dietary Guidelines for Americans. Its report shows that Americans eat more refined grains and added sugar and fat than is deemed healthy, and not enough whole grains, fruits, vegetables, nuts, and fish. (Links to the USDA report and the Dietary Guidelines for Americans are available at health.harvard.edu/142.)
A diet out of balance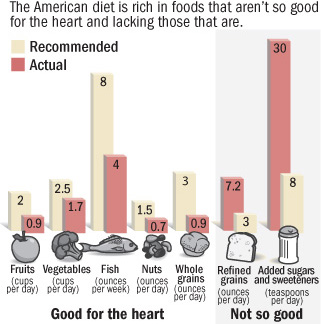 For years, research into connections between diet and the heart have focused on nutrients and other components of food, like cholesterol, fats, salt, and others. But we eat foods, not nutrients. The USDA study joins a small but growing trend into looking at foods and dietary patterns.
To continue reading this article, you must
login
.
Subscribe to Harvard Health Online for immediate access to health news and information from Harvard Medical School.