Heart Beat: A single pill for prevention?
Heart Beat
A single pill for prevention?
Back in 2003, two British researchers suggested a simple approach to preventing heart disease: have everyone over age 50 take a daily "polypill" that contained three blood pressure–lowering drugs (an ACE inhibitor, a beta blocker, and a diuretic), a statin for cholesterol, aspirin to prevent blood clots that lead to heart attacks and most strokes, and the vitamin folic acid. Containing low doses of widely used generic drugs, the pill would be safe and cheap.
While many experts opined on the idea, Indian researchers set about testing it. They recruited more than 2,400 men and women without heart disease between the ages of 45 and 80 years. Some took a polypill they called the Polycap containing three beta blockers, a statin, and aspirin. Others took a pill with one or more of the ingredients. After three months, the polypill had lowered systolic blood pressure (the top number of a blood pressure reading) a respectable 7 points and harmful LDL by 12 points. The polypill didn't cause any more problems than pills containing just one or two of the ingredients (The Lancet, April 18, 2009).
What's in the Polycap?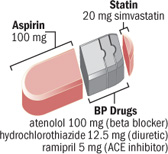 Although larger, longer trials are needed to see if these positive changes translate into heart disease prevented and lives saved, it's an encouraging start. A simple, inexpensive pill isn't a magic bullet against heart disease, and it certainly won't work for everyone. But it could make it easier for many people to control several risk factors at once with a single pill — along with healthy eating and exercise. (In May 2009, the FDA took a step toward a polypill by approving Exforge HCT for blood pressure control. It contains amlodipine, a calcium-channel blocker; valsartan, an angiotensin-receptor blocker; and hydrochlorothiazide, a diuretic.)
To continue reading this article, you must
login
.
Subscribe to Harvard Health Online for immediate access to health news and information from Harvard Medical School.