On the horizon: Exercise at rest - no longer an oxymoron?
The phrase "exercise in bed" conjures images of sex, a fine way to engage in a little physical activity. Miami-based Non-Invasive Monitoring Systems has a different idea, called whole-body periodic acceleration, that may help people who can't exercise in traditional ways.
Instead of moving yourself, whole-body periodic acceleration moves you — shakes you, really — using a special bed called the Exer-Rest that moves back and forth in the head-to-foot direction 140 times a minute. Your feet are strapped firmly to the foot of the bed, so you move with it. This motion mimics the effect of exercise on the arteries as they experience faster, stronger, quicker pulses of blood. Both exercise and whole-body periodic acceleration stimulate the inner lining of blood vessels to release nitric oxide, which tells blood vessels to relax. This improves blood flow throughout the body.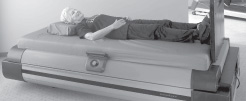 Photo courtesy of Non-Invasive Monitoring Systems
Whole-body periodic acceleration doesn't strengthen muscles or bones, so it doesn't guard against diabetes, falls, or osteoporosis-related fractures. In other words, it will never replace a daily walk or sessions on the treadmill. But it could help people who have trouble exercising, such as those with heart failure or claudication, and perhaps improve artery function to the point where they can begin exercising.
To continue reading this article, you must
login
.
Subscribe to Harvard Health Online for immediate access to health news and information from Harvard Medical School.