Fixing faulty heart rhythms may help kidneys filter better
Working to lower blood pressure, cholesterol, and blood sugar and to ease inflammation definitely helps the heart. It is also good for the kidneys. Now, Japanese researchers have found that treating atrial fibrillation (AF), the fast and uncoordinated beating of the heart's upper chambers, may improve the kidneys' filtering abilities.
In a study, 386 people with AF and mildly reduced kidney function received a catheter-based procedure called ablation to restore normal atrial beats. The tip of the catheter destroys (ablates) small patches of tissue in the left atrium that generate the electrical signals that incite AF (see illustration).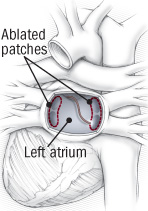 At the end of one year, nearly three-quarters of the participants were fibrillation-free, which is similar to success rates found in other studies of ablation. The AF-free folks also experienced a modest increase in their glomerular filtration rate (GFR), a measure of how well the kidneys remove waste and fluids from the bloodstream. A higher GFR is better than a lower one. GFRs declined in the one-quarter of people whose heart rhythm problems returned after ablation (Circulation, Nov. 29, 2011).
To continue reading this article, you must
login
.
Subscribe to Harvard Health Online for immediate access to health news and information from Harvard Medical School.