Long-term exposure to traffic fumes may damage blood vessels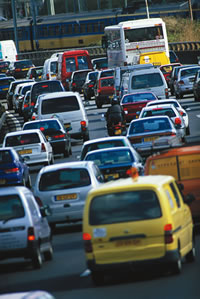 Image: Thinkstock
Exposure to air pollution is a well-known risk for cardiovascular disease. To delve deeper into the hazards of automobile emissions, researchers measured indicators of vascular health in over 5,000 people who lived near major roadways.
The researchers assessed members of the Framingham Offspring and Third Generation studies who lived within 1,000 meters (a little over 1,000 yards) of a major road or highway. Data on the level of fine particles in the air for each neighborhood sector were collected over the course of a year and extrapolated for the period of the study. All participants underwent tests to assess the ability of their arteries to expand to accommodate blood flow.
Researchers found that the individuals who lived within 50 meters of a major roadway had a higher degree of arterial stiffness than did people whose homes were 400 to 1,000 meters off the road. This level of vascular damage would have corresponded to a systolic blood pressure 10 points higher than had been observed in other studies. People who lived 400 meters from the roadways appeared to have somewhat decreased blood flow, but the difference was not significant.
To continue reading this article, you must
login
.
Subscribe to Harvard Health Online for immediate access to health news and information from Harvard Medical School.