How to prepare for a safe vacation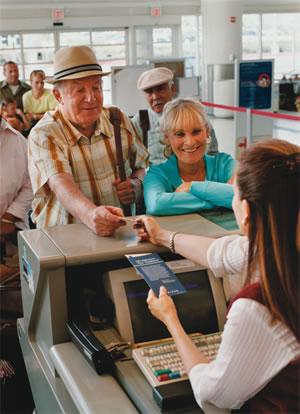 Photo: Thinkstock
If you have heart disease, take these precautions before you leave home.
Summer vacation destinations are calling. Having heart disease doesn't mean you need to stay home, but it does mean you should take some precautions before you leave home. Dr. Mandeep R. Mehra, a Brigham and Women's Hospital cardiologist and professor of medicine at Harvard Medical School, offers this pre-vacation advice:
Plan ahead
Make sure it's safe for you to fly. If you have had a heart attack or been hospitalized with heart failure, you are at increased risk for a blood clot. Wait two to three weeks to take a flight longer than six hours; a short flight may be okay after one week. Wait one week after undergoing angioplasty and stenting.

Watch your altitude. High-altitude destinations can cause fluid to accumulate in the lungs—a danger for anyone with heart failure. Tell your doctor if a high-altitude location is in your travel plans; you may need special medication or time to adjust to altitude changes.

Protect your pacemaker. If you have a pacemaker or implantable cardioverter-defibrillator (ICD), wand searches by airport security may cause problems. Tell security officers you want to be patted down.

Be sensible. Changes in cabin pressure, dehydration, alcohol use, and jet lag can trigger irregular heart rhythms. If you have a history of atrial fibrillation, avoid alcohol and drink plenty of water during your flight. After you land, take it easy and allow time for your body clock to adjust.

Purchase insurance. Consider buying air ambulance insurance before you leave, in case you get sick and need to be flown back to your home hospital. If you are extremely ill and making a trip for one last visit to someone or someplace, you might want to consider buying repatriation insurance to cover the cost of flying your body back home if you die. These aren't pleasant subjects to consider, but both types of transportation are very expensive, and up-front payment in cash is usually required. The insurance is relatively inexpensive.

If You're Planning a Cruise

Get pre-cruise clearance from your doctor, and inform your travel agent or cruise line of your medical condition. Ask whether the cruise line has teleconference facilities and consultation relationships with hospitals for passengers with serious medical problems. Review their emergency plans, and find out which hospitals they may take or send you to in case of a problem to ensure these facilities are equipped to handle heart problems.If you use a device that requires oxygen, make sure there will be sufficient battery backup available, and be sure to take your travel adapter and plugs with you.
Take these with you
More than enough medication. Pack several days' more medication than you think you'll need. If you end up staying at your destination longer than expected, you'll have enough medication on hand. It's good advice for everyone, but may be lifesaving for people with drug-eluting stents taking clopidogrel (Plavix); with hard-to-control blood pressure taking clonidine (Catapres, Catapres-TTS, Dixarit, Kapvay), since interrupting treatment may cause blood pressure to soar or taking beta blockers, since stopping them abruptly may cause a heart attack; ortaking antirejection medications after a heart transplant.

Medical information. A new doctor will need the following to treat you properly:

a list of all medications you take for every reason

a list of all medical problems you have

your 12-lead electrocardiogram (ECG); write your doctor's name and phone number on the back

your usual heart rate and blood pressure

the manufacturer, model number, and programming information for your pacemaker or ICD, if you have one.
"Keep medicines in your purse or carry-on bag, and give one or two days' supply to your spouse or travel companion, just in case your personal luggage is lost," Dr. Mehra advises.
To continue reading this article, you must
login
.
Subscribe to Harvard Health Online for immediate access to health news and information from Harvard Medical School.