Migraines: Can dementia, stroke or heart attack be next?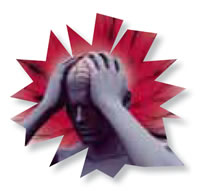 Photo: Thinkstock
New Harvard research confirms some links, rejects others.
Two new studies from Harvard examine the possible associations between migraine headaches and other conditions. One study offers encouraging news: the headaches will not hurt thinking skills. Another study suggests a warning: the headaches, when accompanied by aura, may signal an increased risk of heart attacks and stroke. "After high blood pressure, migraine with aura was the second strongest single contributor to the risk of heart attacks and strokes," says study author Dr. Tobias Kurth, adjunct associate professor of epidemiology at the Harvard School of Public Health. "It was followed by diabetes, family history, smoking, and obesity."
Migraines and dementia
A migraine is a throbbing headache that begins mainly on one side of the head, often accompanied by nausea. It can last from four to 72 hours, and it can be made worse by loud noise and bright light. Sometimes people who get migraines see pulsating lights or black spots or have blurry, distorted vision shortly before the headache kicks in. That's called migraine with aura.
While we don't completely understand what causes migraines, we do know that they are associated with an increase in tiny or "silent" brain lesions, which can be a risk factor for dementia and cognitive decline. "This led us to question if migraine headache is a progressive brain disease," says Dr. Pamela Rist, lead author of one study and a research fellow at the Harvard School of Public Health. But after analyzing data on more than 6,300 women, Dr. Rist and her team determined that migraines, with or without aura, do not appear to lead to cognitive decline. They published their research recently in BMJ. "It is reassuring news for people with migraines," says Dr. Rist.
To continue reading this article, you must
login
.
Subscribe to Harvard Health Online for immediate access to health news and information from Harvard Medical School.