Ask the doctor: What is gastroparesis and how can it be treated?
Q. A friend has a condition called gastroparesis. Please explain what it is and how it can be treated.
A. Gastroparesis is the term used for sluggish emptying of food from the stomach into the small intestine. Normally, your stomach moves about half of an average meal into the small intestine within two hours after you eat, and about 90% within four hours. If you have gastroparesis, food stays in the stomach much longer. Nausea and upper abdominal pain are common symptoms. It may become difficult to keep a full meal down. People with serious cases may eat so little they become dangerously thin and malnourished.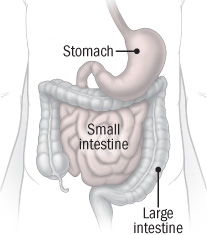 Gastroparesis has a number of causes, and diabetes often tops the list. Elevated blood sugar levels and other aspects of diabetes tend to damage nerves, including the ones that regulate stomach function and speed of emptying. A wide variety of medications can slow stomach evacuation, including antihistamines, tricyclic antidepressants, calcium-channel blockers, and opioid painkillers (codeine, oxycodone, others).
To continue reading this article, you must
login
.
Subscribe to Harvard Health Online for immediate access to health news and information from Harvard Medical School.