8 steps to mindful eating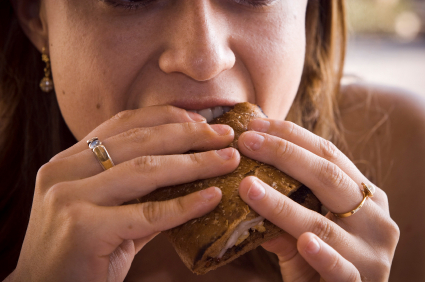 This ancient practice can transform the way you think about food and set the stage for a lifetime of healthy eating.
Like most of us, you've probably eaten something in the past few hours. And, like many of us, you may not be able to recall everything you ate, let alone the sensation of eating it. According to a 2011 report from the U.S. Department of Agriculture, the average American spends two-and-a-half hours a day eating, but more than half the time, we're doing something else, too. Because we're working, driving, reading, watching television, or fiddling with an electronic device, we're not fully aware of what we're eating. And this mindless eating—a lack of awareness of the food we're consuming—may be contributing to the national obesity epidemic and other health issues, says Dr. Lilian Cheung, a nutritionist and lecturer at Harvard T.H. Chan School of Public Health.
What is mindful eating?
Mindfulness means focusing on the present moment, while calmly acknowledging and accepting your feelings, thoughts, and bodily sensations." The tenets of mindfulness apply to mindful eating as well, but the concept of mindful eating goes beyond the individual. It also encompasses how what you eat affects the world. We eat for total health," Dr. Cheung says. That's essentially the same concept that drove the development of the 2015 pro-posed U.S. Dietary Guidelines, which, for the first time, considered sustainability of food crops as well as the health benefits of the foods.
To continue reading this article, you must
login
.
Subscribe to Harvard Health Online for immediate access to health news and information from Harvard Medical School.