Tests to evaluate risk of heart attack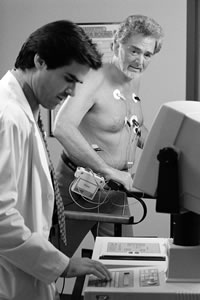 Photo: Thinkstock
Although diabetes increases the risk of heart attack in general, a variety of imaging tests may be used to further establish risk in an individual.
A stress test can identify impaired blood flow to the heart (also known as ischemia) during exercise or stress. The greater the ischemia, the greater an individual's future risk of heart attack or death. "These people may be more likely to benefit from bypass surgery or stenting. Given the results of the FREEDOM trial, bypass surgery should be more strongly recommended for appropriate candidates with diabetes," says Dr. Ron Blankstein, a cardiologist specializing in preventive cardiology and cardiac imaging at Harvard-affiliated Brigham and Women's Hospital.
One type of stress test uses positron emission tomography (PET) to evaluate blood flow in the arteries and also calculates the ability of the arteries to meet increased demand for blood during times of stress. This is called coronary flow reserve, or CFR. When CFR is abnormal—even when there is no known history of coronary artery disease—a person is at higher risk for a heart attack. In addition to identifying a significant narrowing in a major artery, an abnormal CFR also can show disease in very small arteries (known as microvascular disease).
To continue reading this article, you must
login
.
Subscribe to Harvard Health Online for immediate access to health news and information from Harvard Medical School.