Thyroid hormone: How it affects your heart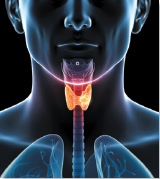 Image: Thinkstock
The thyoid gland, which wraps around the windpipe, releases hormones that have wideranging effects on the body.
Too little or too much of this crucial hormone can contribute to heart problems.
Located at the base your throat, the butterfly-shaped thyroid gland releases hormones that affect every organ in your body—especially your heart. Thyroid hormone influences the force and speed of your heartbeat, your blood pressure, and your cholesterol level. As a result, a malfunctioning thyroid gland can cause problems that masquerade as heart disease or make existing heart disease worse.
To continue reading this article, you must
login
.
Subscribe to Harvard Health Online for immediate access to health news and information from Harvard Medical School.