Ask the doctor: What can you tell me about surgery for vertebral fractures?
Q. I have osteoporosis and a recent spine fracture. I hear there's a minor surgical procedure that can fix the fracture. Can you tell me anything about it?
A. Fractures of the bones in the spinal column (vertebrae) are common in people with osteoporosis; about 750,000 occur each year in the United States. In this type of fracture, called a compression fracture, the vertebra collapses, often causing pain, a gradual loss of height, or stooped posture. Even if the fracture doesn't cause obvious symptoms, having one fracture increases the risk of having another one. The cumulative effect of multiple fractures is chronic pain, disability, depression, and difficulty managing normal daily activities.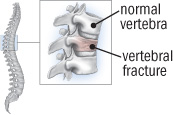 Since the 1990s, two similar minimally invasive procedures — vertebroplasty and kyphoplasty — have been available for the treatment of compression-fracture pain that doesn't respond to more conservative measures. In both procedures, a special cement is injected into the compressed vertebra to stabilize it. In vertebroplasty, the cement is introduced via a hollow needle inserted through a small incision in the skin. In kyphoplasty, tiny inflatable balloons are inserted into both sides of the vertebra before cement is injected. When the balloons are inflated, they create a small cavity in the bone and help restore vertebral height. The balloons are then deflated and withdrawn, and the cavity is filled with cement. In experienced hands, both procedures are generally quite safe. The main worry is that cement can leak into places where it could cause serious problems, such as the spinal canal or the bloodstream. But these complications are extremely rare in the treatment of osteoporosis-related vertebral fractures. The long-term effects of cement in a vertebra are unknown.
To continue reading this article, you must
login
.
Subscribe to Harvard Health Online for immediate access to health news and information from Harvard Medical School.