Protect your memory and thinking skills
Keeping your blood sugar level in check may help ward off dementia.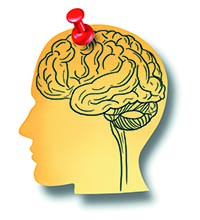 Photos: Thinkstock
Here's another reason to keep your blood sugar under control: increased levels of any kind are now linked to an increased risk of developing dementia. "For the first time, we have a convincing link between dementia and elevated blood sugars, even in the nondiabetic range," says Dr. David Nathan, a Harvard Medical School professor and the director of the Diabetes Center and Clinical Research Center at Massachusetts General Hospital.
Blood sugar risks
Blood sugar levels rise every time you eat. If the levels are too high—126 milligrams per deciliter of blood (mg/dL) or more after an eight-hour fast—you have type 2 diabetes. We've known for a long time that there are links between diabetes and dementia. However, a recent study found that all blood sugar increases—even without diabetes—are associated with an increased dementia risk; the higher the blood sugar, the higher the risk. "We speculate that high blood sugar levels are causing more vascular disease," says
Dr. Nathan, who was an author on the study.
To continue reading this article, you must
login
.
Subscribe to Harvard Health Online for immediate access to health news and information from Harvard Medical School.